The Lady Forster Kindergarten Coastal Curriculum references our vision and mission at the Kindergarten. Lady Forster Kindergarten is proud to deliver a unique immersion experience in our own 'back yard' location nestled into the coastal foreshore of Elwood Beach. The Coastal Curriculum is similar to the 'Bush Kinder' programs but features the ever-changing coastline of Port Phillip and the unique native bush environment and eco-system of the foreshore habitat.
To facilitate the development of confident, capable and happy children, foster a love of active learning via our play-based philosophies and enrich children's learning experience by connecting them with our coastal environment.
Lady Forster Kindergarten strives to create a nurturing environment where children can navigate their early childhood years. We enhance the lives of children, families and the broader community by:
fostering a genuine love of learning
celebrating children's achievements
encouraging socialisation and self-esteem
connecting children to coast and providing beautiful, natural play spaces.
Here at Lady Forster Kindergarten, we are fortunate to be located right on Elwood Beach.
At least once per week, each four-year-old group ventures into the tea-tree, climbs the trees, plays in the sand, explores the shoreline, climbs the rocks, explores the rockpools and walks the foreshore from North Road to the south and the Elwood Canal to the north.
Foreshore excursions happen every week- rain, hail or shine. We try to use only what nature has provided as tools for learning.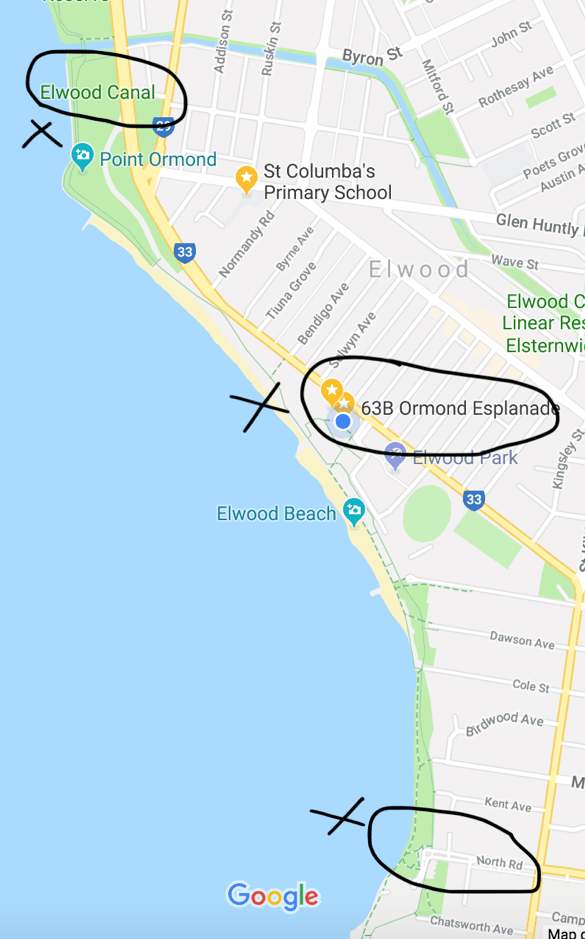 What are we learning outdoors?
Literacy
Drawing in the sand, mark making, storytelling, vocabulary building, listening, learning to recognise patterns, similarities and differences
Maths
Adding, subtracting, measuring, estimating, shape, space and number- "How many shells have you collected? How about if we add one more? What if you give these two to your friend? Is this stick longer or shorter than yours? What is the shape of this? Is it curved or straight? How many children can fit on that branch to you think? Which way will we go?"
Science
Developing an understanding of the local environment and how it changes throughout the seasons. Developing scientific reasoning skills such as; observation, experimentation, wondering, hypothesising, investigating, researching and questioning
Sustainability
Life cycles of plants and animals, helping to care for the areas we use, understanding the impact of the human footprint on our environment
Indigenous Perspectives
Learning about connection to coast and country, learning about history and traditional customs, learning about bush tucker and learning language
Plus so much more…
Physical Skills, Spatial Awareness, Risk Assessment and Management, Negotiating, Problem Solving, Sharing Ideas, Relationships, Trust, Understanding, Community, etc.
Through the program the children forge strong connections to the natural world and these connections are brought back into the kindergarten through shared experiences and discussion, use of natural objects for play and increased awareness of the natural world within the kindergarten grounds. The outdoor areas at Lady Forster Kindergarten have been developed to emulate the local coastal environment with native plantings, natural forms, a 'natural sandpit' and a creek bed. As our plantings mature we hope to attract more native wildlife, birds and insects into the kindergarten outdoor areas to further our children's experience of the local, natural world.
The beach kindergarten experience positively influences the health and well-being of our children as well as encouraging an early understanding of the principles of sustainability, conservation and respect for our natural world.
As per the National Regulations, every reasonable precaution is taken to protect children being educated and cared for by the service from harm and any hazard likely to cause injury (section 167)
Each year the kindergarten reviews and updates our foreshore risk minimisation plan. The plan covers risks such as: sunburn and weather-related injury/illness, serious injury from a fall or a vehicle, animal bites, water safety, a child getting lost, and stranger interference and methodology to minimise/manage identified risks.
Parents will be given a copy of the plan upon commencement at the kindergarten. Once you have read the plan you will be asked to sign an acknowledgement and permission form. Lady Forster Kindergarten has deemed all these risks to be serious but believe the gains to children outweigh the risks. We have explored every avenue to minimise risk, but we value your input.