At Lady Forster Kindergarten we deliver a play-based learning curriculum.
The curriculum encompasses all the interactions, experiences, activities, routines and events, planned and unplanned, that occur in our environment and is designed to foster children's learning and development. 
Play-based learning is a context for learning through which children organise and make sense of their social worlds, as they engage actively with people, objects and representations.
Young children's play allows them to explore, identify, negotiate, take risks and create meaning. The intellectual and cognitive benefits of playing have been well documented. Children who engage in quality play experiences are more likely to have well-developed memory skills, language development, and are able to regulate their behaviour, leading to enhanced school adjustment and academic learning (Bodrova & Leong, 2005)
Physically active play allows children to test and develop all types of motor skills. It promotes significant health and wellbeing benefits. One of the greatest benefits of playing is to assist with the development of social competence. Children can build relationships, learn to resolve conflicts, negotiate and regulate their behaviours. In play, children usually have increased feelings of success and optimism as they act as their own agents and make their own choices. Playing is a known stress release; it is often linked to child wellbeing.
The dispositions for learning, such as curiosity, openness, optimism, resilience, concentration, and creativity (SACSA, 2009), are developed in play. Playing is linked to the development of resilience and the beginnings of empathy as children begin to understand other points of view.
The Early Years Learning Framework has a strong emphasis on play-based learning, a context for learning that is embedded in all aspects of Lady Forster Kindergarten's programs and curriculum. The framework also recognises the importance of communication and language (including early literacy and numeracy) and social and emotional development. In addition, the framework has a focus on successful transition to formal schooling.
Our Curriculum is based on the national Early Years Learning Framework (EYLF) and the Victorian Early Years Learning and Development Framework (VEYLDF)
National Early Years Learning Framework (ELYF)
The Early Years Learning Framework (EYLF) is an Australian early childhood curriculum framework, which guides our educators in developing quality, kindergarten education programmes at Lady Forster Kindergarten. The framework describes the principles, practice and outcomes to support and enhance young children's learning from birth to five years, as well as their transition to school. The Framework helps to ensure consistency in the delivery of learning programmes around Australia.
The Framework conveys the highest expectations for all children's learning from birth to five years and through the transitions to school. It communicates these expectations through the following five Learning Outcomes:
Children have a strong sense of identity
Children are connected with and contribute to their world
Children have a strong sense of wellbeing
Children are confident and involved learners
Children are effective communicators.
Victorian Early Years Learning and Development Framework (VEYLDF)
The VEYLDF describes each of the 5 Outcomes for children (EYLF) from birth to eight years, linking the learning outcomes from the Early Years Learning Framework for Australia to the first three levels of the Victorian Curriculum F-10. The Outcomes provide a shared language for all early childhood professionals and families to use when planning for children's learning and development. The VEYLDF identifies eight Practice Principles for Learning and Development, which describe the most effective ways for early childhood professionals to work together and with children and families to facilitate learning and development.
The Practice Principles are based on the pedagogy of the Early Years Learning Framework for Australia and evidence about the best ways to support children's learning, development and wellbeing. The VEYLDF emphasises the importance of supporting children's and families' transitions as they move within and across services throughout the early childhood period.
The Framework is built around a vision for children's learning and five learning outcomes:
A Vision for Children's Learning
All children experience learning that is engaging and builds success for life. Fundamental to the Framework is a view of children's lives as characterised by belonging, being and becoming. From before birth children are connected to family, community, culture and place. Their earliest development and learning takes place through these relationships, particularly within families, who are children's first and most influential educators. As children participate in everyday life, they develop interests and construct their own identities and understandings of the world.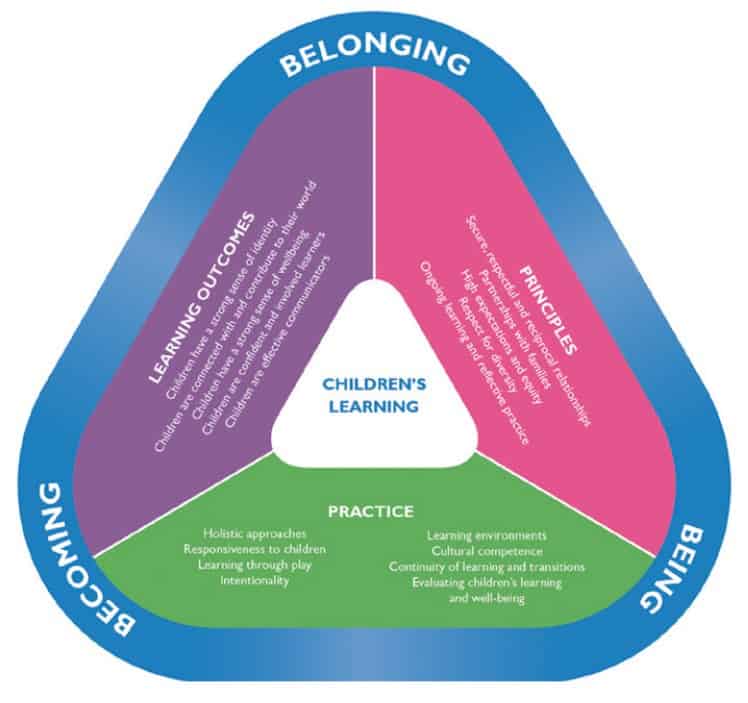 Experiencing belonging – knowing where and with whom you belong – is integral to human existence. Children belong first to a family, a cultural group, a neighbourhood and a wider community. Belonging acknowledges children's interdependence with others and the basis of relationships in defining identities. In early childhood, and throughout life, relationships are crucial to a sense of belonging. Belonging is central to being and becoming in that it shapes who children are and who they can become.
Childhood is a time to be, to seek and make meaning of the world. Being recognises the significance of the here and now in children's lives. It is about the present and them knowing themselves, building and maintaining relationships with others, engaging with life's joys and complexities, and meeting challenges in everyday life. The early childhood years are not solely preparation for the future but also about the present.
Children's identities, knowledge, understandings, capacities, skills and relationships change during childhood. They are shaped by many different events and circumstances. Becoming reflects this process of rapid and significant change that occurs in the early years as young children learn and grow. It emphasises learning to participate fully and actively in society.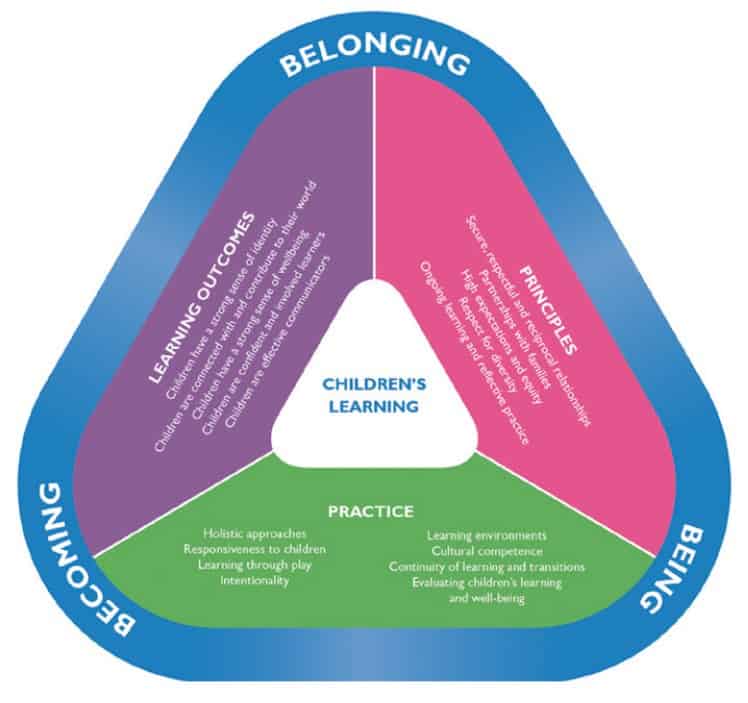 The Framework is designed to inspire conversations, improve communication and provide a common language about young children's learning among children themselves, their families, the broader community, early childhood educators and other professionals.
A copy of the Early Learning Framework is available for download here:
Belonging, Being & Becoming – The Early Years Learning Framework for Australia
https://docs.education.gov.au/node/2632
A copy of the Victorian Early Learning and Development Framework is available for download here:
Victorian Early Years Learning and Development Framework – for all children from birth to eight years
https://www.education.vic.gov.au/Documents/childhood/providers/edcare/veyldframework.pdf