At Lady Forster Kindergarten we have established processes for preparing for emergency situations.
An emergency can be an incident, situation or event where there is an imminent or severe risk to the health, safety or wellbeing of a person (child or adult). Examples of emergencies include floods, bushfires or situations which require a service to be locked down.
Evacuation Assembly Points
We have two Evacuation Assembly Points located near the kindergarten and a 'shelter-in-place' location within the building. Please ensure you are aware of these locations if on site at LFK in an emergency. The Chief Warden will direct you to one of these locations if required.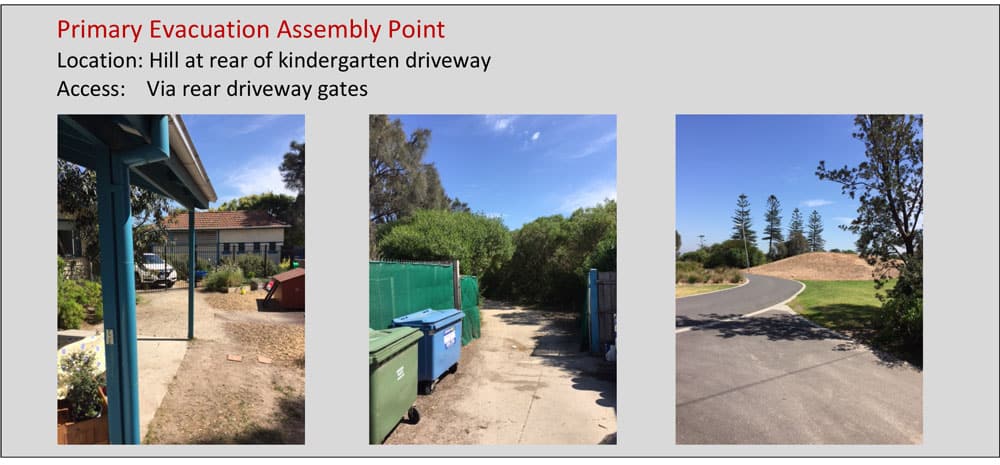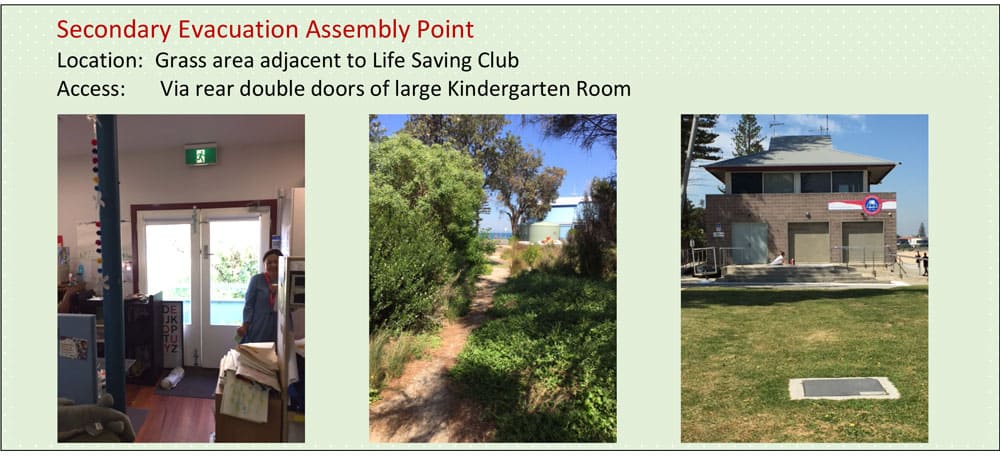 Emergency & Evacuation Policy
A copy of our Policy (#4) is available to view on this website  with a printed copy available for inspection on site.
Emergency Management Plan (EMP)
Our Emergency Management Plan is available for download/review from our website and also for inspection on site in printed copy. This is reviewed and updated annually, and more frequently if required. It was first established through a training session with the Emergency Team from DET and is reviewed/improved each year.

Evacuation Floor Plans
Throughout the kindergarten are Emergency Evacuation Floor Plans prominently displayed at each exit from the kindergarten.

Maintenance of emergency systems
Our premises are leased from Port Phillip Council and their Essential Services Team regularly maintain our fire detection and security systems at site in accordance with regulations. Smoke detectors are located throughout our kindergarten buildings and a Fire Indicator Panel (FIP) is located on the outdoor veranda area.

Emergency drills
We regularly rehearse our emergency and evacuation procedures every 3 months and document the drill, involving everyone present at the kindergarten at the time. We time these so that all children in every program experience these so they are familiar with our two emergency assembly points and our internal lockdown location inside the building. Staff critically reflect on each drill and we are continually improving our processes.

Bushfire preparedness
Lady Forster Kindergarten is not on the DET Bushfire at-Risk Register (BARR) but our evacuation planning covers any fire that may arise in the coastal bush surrounding the kindergarten.

Local conditions and event monitoring
We monitor local Air Quality and UV ratings daily and during the summer months, we monitor Beach Water Quality when this information is available.
We monitor the VIC Emergency app at all times for local emergency warnings.

Emergency equipment and supplies
We maintain a number of 'emergency trolleys' which we take with us whenever leaving the kindergarten – for our beach curriculum excursions and for emergency rehearsals. Our emergency trolley contains essential supplies and information.

Family contact information
Contact details of all our currently enrolled families together with emergency organisation contacts are maintained in our kindergarten emergency mobile phone which is with the kindergarten teacher/emergency team during all excursions and evacuations.