Thinking about enrolling your child?
Reconciliation action plan
LFK is committed to reconciliation and has released the first draft of its Reconciliation Action Plan, with plans to finalise this important plan in 2023. Find out more here.
Lady Forster Kindergarten is a community-managed kindergarten situated on Boonwurrung Country by Port Phillip Bay in Elwood offering three and four-year old sessional kindergarten and four-year old long day kindergarten programs.
The kindergarten boasts generous rooms and a large, natural outdoor play space with room for children to enjoy a sense of freedom within clear boundaries. Beyond these boundaries we have a flourishing kitchen garden and with our Beach Curriculum, children's experiences extend into the beach/bush environment surrounding the kindergarten. Together with Elwood PlaySpace adjacent to the kindergarten, children have boundless opportunities to immerse in nature.
See our children in action at Lady Forster Kindergarten
My son would choose this kinder over and over again! It is the happiest, most welcoming and most connected kindergarten in Elwood! My son is seen, loved and celebrated at LFK. He has made best friends, as well as a big friendship circle, which I think is thanks to the easy flow of children through the LFK rooms and outdoor areas. He happily moves from one group of friends to another, which is pretty special if you ask me! LFK management also do a great job of connecting all of the parents and families in group chats and events, so it's just as easy for parents to make great friendships. My son has loved every minute of his time at LFK and feels so ready for big school next year. I can't thank the team at LFK enough. This has been the best kinder experience!
Our 3 children have all been through LFK for their kindergarten experience. We have absolutely loved our time at LFK & couldn't recommend them highly enough. The teaching staff are exemplary & the weekly beach walks, outdoor activities & kitchen garden have all added to an outstanding kindergarten experience. The team are incredibly nurturing of both children & parents. Nothing is ever too much trouble & you truly feel part of a community whilst at LFK. It's only small but that's part of the appeal. A little kindergarten that packs a punch! We love our LFK community!
LFK is the most wonderful little community. The staff are amazing and go above and beyond to make our daughter feel welcomed and cared for. The beach program is a highlight of their program and has sparked a genuine interest in the outdoors and caring for our environment. Our daughter has made some lovely friends and has developed confidence and a real love of learning whilst at LFK. They have prepared her well for primary school and we hope she loves school as much as she loves LFK.
We have been a long term family at LFK and we're still so happy with the nurturing and support our children have and do receive there. They love going to LFK! The educators are wonderful, the kinder itself is a beautiful calm environment and the learning programs with a focus on beach curriculum and indigenous culture is a real highlight.
My daughter has enjoyed her time at LFK. When she began she was reserved and kept to herself. Fast forward and we now struggle to get her to leave LFK every day. She has blossomed and her confidence has grown so much. She skips into LFK every morning and that in itself is a testament to her joy at going to LFK and the wonderful care she receives. Thanks so much
Both of my sons have attended the sessional programs and they feel so safe, content, stimulated and cared for there. It's basically utopia 🙂
I've seen my son grow in to a little person thanks to the dedication of the teachers at LFK. They extended program is excellent, my son is constantly telling me all the things they do during the days. It's a very inclusive kindergarten, children learn from play bit also have guest speakers teaching them. One of the best things is the weekly beach/bush walks and all the teaching about the nature. I highly recommend LFK . We are gutted that the journey is over but my son is well prepared for the next steps thanks to LFK. Julie and her brilliant team of educators are all professional and knowledgeable. We will miss you all.
We were quite nervous about changing to LFK from another centre but this ended up the best decision we could have made. The educators are very passionate, clearly care about the children and put a lot of effort into their work. LFK provides a real sense of community and fosters respect in the children for our indigenous cultures and the natural environment. The outdoor space is incredible and the beach curriculum a big highlight of my son's week.
Our daughter will always cherish the time she had at LFK. Every staff member takes so much care to engage with her, to nourish her, and to make her feel valued. The programs are very engaging. She can't stop talking about everything she learns each day. The beach walks and other nature explorations are very special. We can't wait for our daughter to head to school next year but will dearly miss LFK and the beautiful community they inspire. Our daughter has really bloomed in this community. Thank you.
I absolutely love LFK and its unique beach curriculum. Communication is excellent, staff are fantastic and the location is gold! All of this for a very competitive price vs other kindergartens and flexible hours to suit all family needs.
LFK has played a huge role in the development of our child, through the outdoor program through to the incursions & caring and attentive staff. The changes to our daughter have been positively overwhelming. She is showing a lot more confidence and keenness to learn and explore. So thankful to all of the educators.
LFK is a kindergarten like no other. My son asks; 'how many more sleeps until kinder', daily! Even on the weekends haha. This is a testament to the wonderful staff and curriculum. I love hearing my son share his learnings about local plants, nutrition and recycling. LFK honours a child's right to play and have fun whilst tackling modern day issues. Their Indigenous education is also exceptional!
The environment that LFK have created for the children is boundless. Our 3yr old loves it and always comes home with stories about his friends and the adventures they have had.
My son started early in 2020 and despite being absent for much of the year due to covid restrictions, has had a truly wonderful year at Lady Forster Kindergarten. The staff have really taken the time to get to know him, his likes and dislikes, and have been able to deliver a truly engaging program making each day a pleasure for him. We are very grateful for this enriching lead up to prep.
My daughter has thrived at LFK and will miss all the educators very much when she heads to school next year. The quality of the staff, program, and the commitment to caring for the environment and reconciliation is outstanding. As a parent I am always impressed by LFK!
LFK is an amazing kindy with a genuine interest in child learning and growth. The entire team at LFK are tremendous. This little community kindy is a real "hidden gem" that should pride itself on the impact it has on our kids. I have had two girls go to this kindy now and the lessons learnt, experiences and community created will forever last in theirs, and our, memories.
LFK is a wonderful community kindergarten that we have so valued being a part of for the past few years. We were first attracted by the beach and coastal programs, but there is so much more to this kinder. The staff are caring and nurturing and the focus on play-based learning. The natural environment, sustainability and indigenous culture and traditions are just some of the highlights. Our child has loved being at LFK and has positively thrived. We couldn't recommend it enough.
Absolutely wonderful care, loving, fun, & full of connection.
There are plenty of fun activities for both quiet and bold children at LFK, which has allowed my daughter to set her own pace and join in when she feels comfortable. She always comes home excited to tell me about a fun game, song or story she was involved in at kinder. I'm really glad we decided to send her to LFK and very grateful to the teachers for the patience and care they have shown to my child.
LFK is an amazing community of nurturing empowerment where the kids are allowed to grow, learn and be free to be kids. While the grown-ups are given the opportunity to contribute, network and support the community on all levels. It ticks all the boxes and then some. I could never have dreamed of such an ideal place.
It has been such a pleasure being at Lady Forster Kindergarten - the staff are amazing! All three of my children have been here and they loved it. I will really miss it.
My daughter gained valuable social interaction skills through the personal attention attributed to each of the many orchestrated opportunities, and the skills of the staff to teach this. Play-based learning is well documented as being a powerful matrix for learning and development. At Lady Forster Kindergarten they protect this model of learning and live by it. I have witnessed many learning opportunities being built on in this context. The child may lead the discussion, but the teachers craft it into one of education. We have been very happy with the level of teaching and the stability of the teaching staff. Lady Forster Kindergarten is purely a kindergarten where the children want to be. As the staff say, it's all about the children, and when the children are so happy to be there, I say it's all about the staff.
Our son was in the four year old long day room. We were impressed with Lady Forster Kindergarten's open space and play based program; and the excellent staff to student ratios. The fact that there is a constant group and teacher, allows for a cohesive group identity to develop. A highlight for our son has always been the excursion activities that occur on a regular basis, where the group goes on coastal walks. The nature based play activities allow exploration and testing physicality and, most importantly, are a lot of fun.
Being a play-orientated Kindergarten, the staff understand (what the research supports), that children's social, emotional, physical and mental development all thrive through play. Play builds independence, enhances their decision making, problem solving, language skills and leadership skills. Lady Forster provides a safe caring environment where children are engaged through meaningful play. The best thing about it is from the children's perspective – they're just having fun. The teachers are exceptional and sure footed and it's obvious to me that they really care about the children. It's one in a million!
The team have been wonderful since my son joined the kindy in April. The teachers are fantastic and there was no turnaround of staff since we joined which is a good sign. We love the fact that the outdoor play area and the room are spacious. The opening hours definitely suits me.I love the fact that the kindy has a holiday program for 3-7 yold with plenty of great activities and the sea nearby or bike path for a scooter ride.
I could not have wished for a more joyous kindergarten experience for my daughter. Over the past 2 years, I have delighted in her eagerness to get ready for kinder and skip ahead of me to get started with her day. She tells me happily of artistic creations, playing with friends, learning how to master the monkey bars and much more. Throughout I have seen her observe and experience and learn so much from her friends, environment and wonderful teachers. Or, to put it more simply, in her words: "I go to the best kinder in the world."
If you want your children to be able to do what they want to do whilst starting to build friendships and learning structure this is the place for you. Confidence and resilience levels have massively improved in both my children over their time at LFK.
Our daughter attends the Extended Hours Kindergarten program and absolutely loves it! The teachers are highly committed and provide a well-balanced atmosphere for each child to feel confident and part of the group.
My 2 boys have both attended Lady Forster Kindergarten in the Extended Hours Program. The experience for them has been fantastic. The environment has been thoroughly stimulating, supportive, encouraging and best of all fun. For me, it was great being able to see how excited they were to go off to Lady Forster every day and how happy they were when l picked them up. I really liked how the boys were encouraged to be independent, resilient and self-sufficient plus have their sense of adventure and curiosity encouraged and explored.
LFK are doing a magnificent job. My children have attended the kindergarten and I'm so happy that we have been a part of the LFK community. As parents you want your children to skip into kinder and be happy/excited to be there. We have had that with both our children. The natural environment is amazing, and the educators are fantastic. Couldn't be happier.
LFK has provided a wonderful kindergarten experience for our child. He is an active child who loves the outdoor activities and beach walks. The staff have a very good understanding of his needs.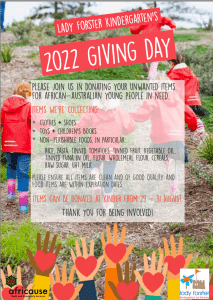 Our amazing 'Events Team' of volunteer parents has put a "Capital C" in Community this year with two initiatives that model for our children the
Read More »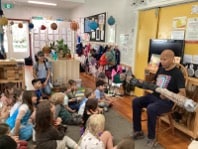 In Term 4 we have been busy exploring First Nations culture with a range of indigenous presenters. Local Boonwurrung custodian, Jaeden Williams, came to site
Read More »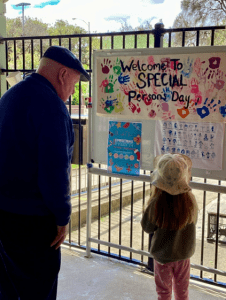 Lady Forster Kindergarten children were delighted to bring their 'special someone' to kindergarten in November and show them around for 'Special Person's Day' in November.
Read More »