Thinking about enrolling your child?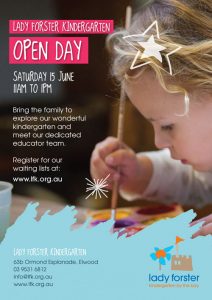 We have our annual Open Day coming up on 15th June – the kindergarten will be open from 11 am to 1 pm. Bring the
Read More »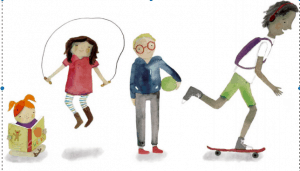 Body Safety Australia has partnered with City of Port Phillip and City of Stonnington to provide workshops for parents and carers on the prevention of
Read More »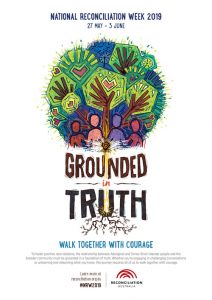 The theme for National Reconciliation Week (NRW) in 2019 is: Grounded in Truth Walk Together with Courage To foster positive race relations, the relationship between
Read More »
Lady Forster Kindergarten is a not-for-profit kindergarten situated by Port Phillip Bay in Elwood offering three and four-year old sessional kindergarten and four-year old long day kindergarten programs.
The kindergarten boasts generous rooms and a large, natural outdoor play space with room for children to enjoy a sense of freedom within clear boundaries.
See our children in action at Lady Forster Kindergarten
There are plenty of fun activities for both quiet and bold children at LFK, which has allowed my daughter to set her own pace and join in when she feels comfortable. She always comes home excited to tell me about a fun game, song or story she was involved in at kinder. I'm really glad we decided to send her to LFK and very grateful to the teachers for the patience and care they have shown to my child.
LFK is an amazing community of nurturing empowerment where the kids are allowed to grow, learn and be free to be kids. While the grown-ups are given the opportunity to contribute, network and support the community on all levels. It ticks all the boxes and then some. I could never have dreamed of such an ideal place.
My daughter gained valuable social interaction skills through the personal attention attributed to each of the many orchestrated opportunities, and the skills of the staff to teach this. Play-based learning is well documented as being a powerful matrix for learning and development. At Lady Forster Kindergarten they protect this model of learning and live by it. I have witnessed many learning opportunities being built on in this context. The child may lead the discussion, but the teachers craft it into one of education. We have been very happy with the level of teaching and the stability of the teaching staff. Lady Forster Kindergarten is purely a kindergarten where the children want to be. As the staff say, it's all about the children, and when the children are so happy to be there, I say it's all about the staff.
Our son was in the four year old long day room. We were impressed with Lady Forster Kindergarten's open space and play based program; and the excellent staff to student ratios. The fact that there is a constant group and teacher, allows for a cohesive group identity to develop. A highlight for our son has always been the excursion activities that occur on a regular basis, where the group goes on coastal walks. The nature based play activities allow exploration and testing physicality and, most importantly, are a lot of fun.
Being a play-orientated Kindergarten, the staff understand (what the research supports), that children's social, emotional, physical and mental development all thrive through play. Play builds independence, enhances their decision making, problem solving, language skills and leadership skills. Lady Forster provides a safe caring environment where children are engaged through meaningful play. The best thing about it is from the children's perspective – they're just having fun. The teachers are exceptional and sure footed and it's obvious to me that they really care about the children. It's one in a million!
The team have been wonderful since my son joined the kindy in April. The teachers are fantastic and there was no turnaround of staff since we joined which is a good sign. We love the fact that the outdoor play area and the room are spacious. The opening hours definitely suits me.I love the fact that the kindy has a holiday program for 3-7 yold with plenty of great activities and the sea nearby or bike path for a scooter ride.
I could not have wished for a more joyous kindergarten experience for my daughter. Over the past 2 years, I have delighted in her eagerness to get ready for kinder and skip ahead of me to get started with her day. She tells me happily of artistic creations, playing with friends, learning how to master the monkey bars and much more. Throughout I have seen her observe and experience and learn so much from her friends, environment and wonderful teachers. Or, to put it more simply, in her words: "I go to the best kinder in the world."
If you want your children to be able to do what they want to do whilst starting to build friendships and learning structure this is the place for you. Confidence and resilience levels have massively improved in both my children over their time at LFK.
Our daughter attends the Extended Hours Kindergarten program and absolutely loves it! The teachers are highly committed and provide a well-balanced atmosphere for each child to feel confident and part of the group.
My 2 boys have both attended Lady Forster Kindergarten in the Extended Hours Program. The experience for them has been fantastic. The environment has been thoroughly stimulating, supportive, encouraging and best of all fun. For me, it was great being able to see how excited they were to go off to Lady Forster every day and how happy they were when l picked them up. I really liked how the boys were encouraged to be independent, resilient and self-sufficient plus have their sense of adventure and curiosity encouraged and explored.
Other assistants that help our d